Braemar
Braemar Flats, Braemar Building, Brandons (Solicitors)
32 The Terrace,
Wellington Central, Wellington
❰
❱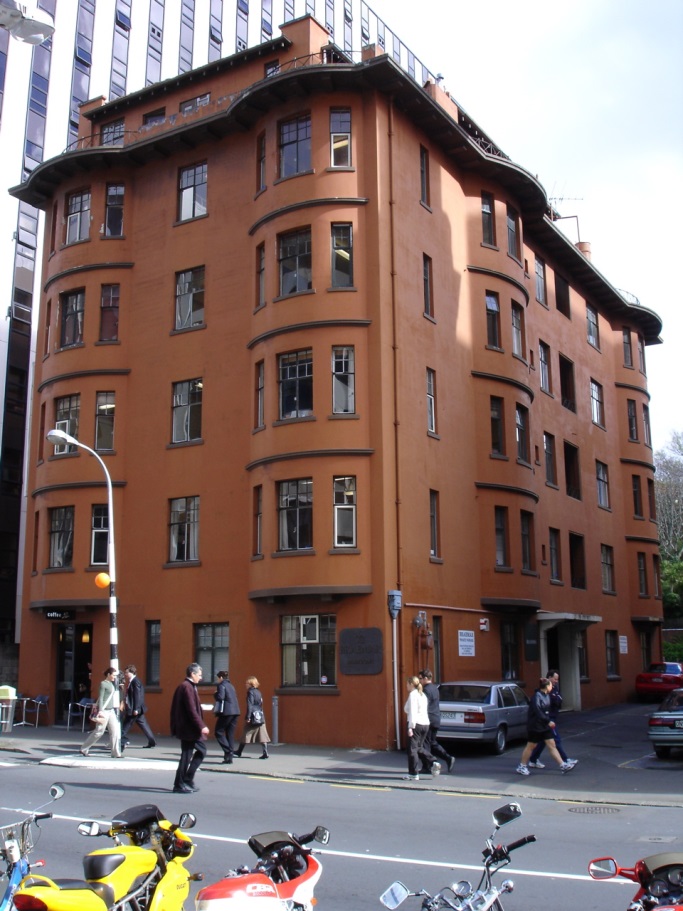 Image: Russell Murray, 2005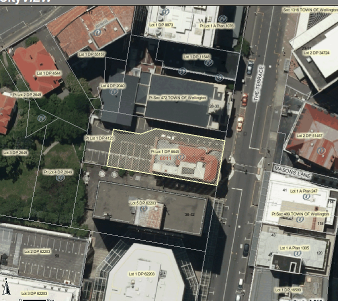 Extent: Cityview GIS 2012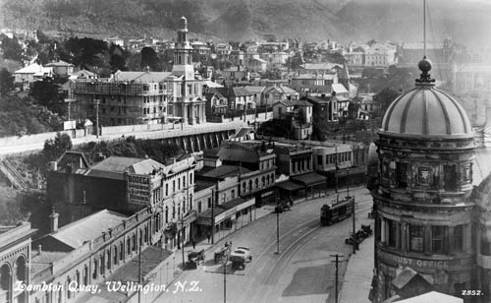 Braemar under construction in c.1924.
National Library reference: Tanner Brothers Ltd (Publishers). Lambton Quay, Wellington. Ref: 1/2-050810-F. Alexander Turnbull Library, Wellington, New Zealand. http://natlib.govt.nz/records/22901802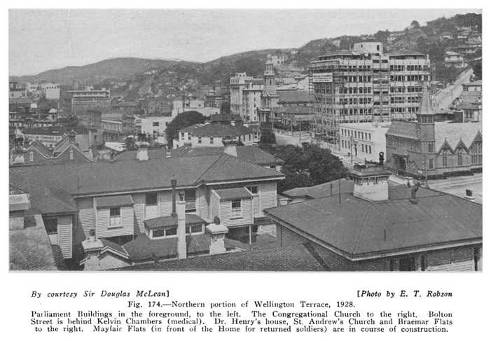 Braemar in 1928
Image: Louis E. Ward, Early Wellington, Whitcombe and Tombs Limited, 1928, Auckland. Available from NZETC http://www.nzetc.org/tm/scholarly/WarEarl-fig-WarEarl317b.html.
Architect(s)

Builder(s)

Jones & Cameron

The building is notable for the articulation of its two main facades, particularly the bow fronted oriel windows, and the prominent projecting cornice. It has high aesthetic value as an interesting piece of architecture, with an unusual form, and is the work of a well-known and long-running firm of Wellington architects. It has a high level of authenticity, with the building being in substantially original condition, despite a change of use from residential to commercial.

This low-rise rendered concrete building is a local landmark, and provides a well articulated contrast to the modern high-rise curtain wall office buildings that predominate the setting of the north end of The Terrace.

The building is set within a group of significant heritage buildings on The Terrace that include St Andrew's(1922), the NZMA Building (1939), 22 The Terrace (1866) and Kelvin House (1927-8) and makes a positive contribution to the setting of its neighbour the Category I listed St Andrew's Church.

This early apartment block has historic significance and is a representative example of the start of the trend towards high-density inner city living in New Zealand. It has housed some noteworthy individuals over the years.

Downloadable(s)
Last updated: 12/4/2017 2:35:14 AM